Choose from three Johnny Ace Palmer introduction cards: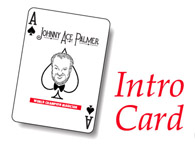 No need to compose and/or memorize an introduction. It's in large print right here! Just print it, fold it twice so the "Intro Card" side (above) is on the front, and it will easily fit in your breast pocket.

See previews of the Intro Card versions.